REPORT: The Rights and Religions Forum Community Survey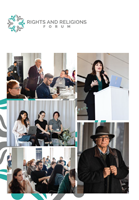 In order to better understand the landscape of leaders serving individuals who left insular religious groups (IRG), and to determine how best we could serve them, RARF hired Secular Strategies to conduct a community survey. The community survey aimed to better understand the experiences, challenges, successes, and goals of those working on the ground with current and former members of IRG so that we can mobilize resources to support them. The preliminary findings were presented at RARF's second conference in October 2022, which we leveraged as an opportunity to incorporate feedback from attendees and to connect with additional survey participants.
We successfully held our second conference in October 2022 that was used to examine the various mechanisms – legal, psychological, and institutional – within insular religious communities which compromise the rights of people within them. Unlike the previous conference, we also included a private, invite-only day of training, workshops, and round-table discussions exclusively for leaders of formerly religious communities.
In October 2019, the Rights and Religions Forum held its first event, a day-long conference titled "When Rights and Religions Collide," in New York City. At the conference, attendees learned about the challenges faced by individuals from insular religious communities – such as the inability to choose a spouse, earn a living, socialize with people of their choosing, and live independent lives based on personal values, needs, and beliefs. Scholars, activists, and individuals from religious communities of origin discussed the distinct issues facing individuals from particular faith communities as well as issues that are common to individuals across faith backgrounds. The sessions were moving, thought-provoking, and calls to action.
Check Out Our Past 2019 Conference Page
Coalition of Changemakers
We aim to convene activists from across the country who can benefit from learning about one another's work. This online community will meet several times a year and will facilitate an exchange of ideas and best practices as well as partnerships and collaborations. The meetings will focus on mobilizing a coalition of activists that is informed about the range of initiatives that are underway to benefit individuals from insular religious communities.

Our hope is that this coalition will function as a convener of those who wish to participate in our movement and generate opportunities for select groups or the coalition as a whole to act collectively and powerfully to advance our shared interests.
Upcoming: Community Leader Fellowship
We will convene an inaugural cohort of leaders from around the country to participate in a Fellowship Program that will focus on learning best practices from experts and fellow practitioners. 
We will equip this cohort of leaders with the tools and resources they need to lead successful organizations and initiatives. By bringing together a group of talented grassroots leaders, we will strengthen a movement that can effectively challenge the status quo that makes it difficult for individuals to leave or deviate from insular religious communities.